Buzzy's Buzzy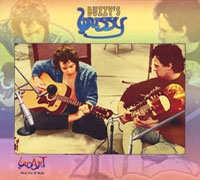 The album "BUZZY'S buzzy" is the first solo album by this critically acclaimed singer-songwriter who came of age in Greenwich Village in the hey-day of folk-rock during the Sixties.
Upon being discharged from the Navy in 1963 Buzzy went to Coconut Grove, Florida, where he and other gifed young musicians of all kinds infused folk music with rock'n roll and created a new genre that came to be called "folk-rock."
He soon moved to Greenwich Village where he sang and played guitar and vibes with other singer-songwriters such as Tim Hardin, David Crosby, John seastian, Buffy st. Marie, Fred Neil, Bob Dylan, and many other gifted musicians who were in the process of engendering a new genre that came to be called "singer-songwriter."
According to Rolling Stone, the release in 1968 of Tom Rush's album "The Circle Game" marked the beginning of the "singer-songwriter" movement. The original tracks for the album "BUZZY'S buzzy" were recorded in London during October of 1968 on the same four track machine that the Beatles used for their album "Sgt. Pepper's Lonely Hearts Club Band." This places Buzzy as one of the progenitors of the "singer-songwriter" genre. These tracks include various other sub-genres that Buzzy participated in creating, including "jazz-rock" and "raga-rock."
"Veteran of the coffee house early folk rock sing for your supper and sleep where you can living. Traveler of unexplored and hostile areas peopled with longhair hating finger-pointing audiences that wouldn't even listen. Learning his craft on battered broken guitars and antique amplifiers and writing songs about joy even when a tear outweighed a smile. Standing out in a music world overflowing with look-a- likes and sound-a-likes, like a peacock at a pigeon party. A one of a kind singer songwriter musician and human type being that feels the notes he sings." -Steve Denaut on Buzzy Linhart.
Buzzy Linhart was born in Pittsburgh in 1943. By the age of seven he was already interested in music. He started as a drummer and soon was playing the vibes, marimba, guitar, harmonica and some piano.
By eighteen he had enlisted in the Navy and was playing in the Navy Band. Upon discharge in 1962, Buzzy went straight to Florida, where he met and jammed with the legendary Fred Neil. But the place where the music scene was really happening at that time was in New York, where the folk-rock phenomenon was germinating, and Neil and Buzzy agreed to meet in Greenwich Village that next summer.
Buzzy moved to New York in 1963 and shared an apartment with John Sebastian, who will become a pivotal part of the Lovin' Spoonful. By this time, Fred Neil was serving as a kind of master of ceremonies at the Cafe Wha?, and was attracting Bob Dylan and other wandering minstrels of that time, including Buzzy.
Ravi Shankar was having a big influence on American musicians during the 1960s. Buzzy was inspired by Shankar's improvisational virtuosity and was drawn to the raga form. Buzzy, joined Fred Neil, Tim Hardin, and others in experimenting with long improvisational jam sessions at the Night Owl and other clubs in the Village, sharing with audiences a new and developing kind of raga-rock style of music. Robert Shelton of the New York Times wrote in 1964 that Buzzy was one of the first American musicians to successfully blend rock and Indian raga. As Buzzy puts it, they were searching for that point where "telepathy ends and making music begins."
Jessie Colin Young tells us that after hearing Buzzy sing the Dino Valenti song GET TOGETHER at the Café Au Go Go, he was so moved that he went backstage and asked Buzzy to teach it to him. Buzzy did so, the song became a monster hit and a mainstay in the Youngbloods' repertoire. Young recalls this story in an excerpt from Famous The Buzzy Linhart Story.
Circa 1966, Buzzy formed a quartet called the Seventh Sons with Serge Katzen, Steve Denaut and Max Ochs. They recorded on their own many of the songs from their live set. The group received offers of recording contracts from Capital, Electra, and others. However, the record companies in those days usually insisted upon using one of their regular session drummers for recording session. The group's manager/drummer Serge Katzen would not hear of it, Buzzy chose loyalty over ambition, and no recording contract was formed.
Around this time, Doug Rodrigues and John Siomos brought Mitch Ryder to see Buzzy play live in New York. Ryder was impressed, and hired Buzzy to open for him on his upcoming U.S., German and British tour.
While in London, Buzzy landed his first recording contract, a one album deal with Phillips, and produced his first commercial release, the eponymous "buzzy" album, recorded at Chappel Recording Studios, during October of 1968. Buzzart has completely remade this album and we have entitled it "BUZZY'S buzzy" to account for the fact that wtih the help of Bill Black, our adio engineer extraordinaire, we have made substantial improvements to the original recordings, recompiled the order of the tracks, and created a brand new cover with current liner notes. This album contains a good example of Buzzy's contribution to raga rock in the track entitled SING JOY, co-written by Buzzy and Dona Calles. Buzzy included two Indian instruments in the mix with Keshav Sathe on tabla, and big Jim Sullivan on sitar, plus a Mellotron, played by Phil Ryan, for good measure. Our sound clip on the Website is an unreleased recording of SING JOY.
After his return to New York, Buzzy formed the Buzzy Linhart Quartet, consisting of Doug Rodriguez on lead guitar, John Siomos on drums, and Douglas Rausch on bass.
The Website bio page contains a 1969 studio recording of Buzzy's version of Tim Hardin's YOU'VE GOT A REPUTATION featuring Buzzy on lead vocals and rhythm guitar, along with the rest of his quartet. Later-on, Ronnie Cuber, who occasionally had played with the Seventh Sons, joined Buzzy's new band, which he renamed "Music."
During the 1960s Buzzy was learning his craft by listening to, playing with, and being influenced by, some of the finest songwriters of that decade. We are pleased to present on the Website unreleased recordings of Buzzy's covers of songs by Fred Neil (BAG I'M IN), Bob Dylan (OXFORD TOWN), Tim Hardin (YELLOW CAB), and John Sebastian (GOOD TIME MUSIC). We have included a video clip on the Website of Buzzy performing BAG I'M IN at the Videofreex Loft in 1968. With this foundation, Buzzy will come into his own as one of the finest songwriters of the next decade and beyond.
Purchase this Album
Genre: Rock: 60's Rock
Release Date: 2008