Electric Lady Dream: The Eddie Kramer Sessions (New York City, 1969)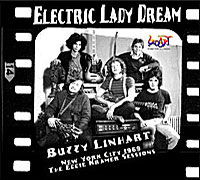 Buzzy Linhart's second album, "MUSIC," was recorded in New York City in 1969. Eddie Kramer engineered and he and Buzzy co-produced it.
The recordings that we have selected for this album were recorded at the famous Electric Lady Studio, created and established by the one and only Jimi Hendrix.
Fortunately, Eddie Kramer saved the original reel to reel audio tapes (along with many other recordings and music memorabilia). Many years later he put them up for auction. We contacted him directly, and he graciously sold the original tapes to us at the original asking price.
When the tapes were delivered to Buzzart we were delighted to find a recording of the song "BIRDS." Buzzy had co-written this song with the late Moogy Klingman, a gifted songwriter with whom Buzzy had co-written several other songs, including the mega-hit "FRIENDS." BIRDS was not used on the MUSIC album and we are pleased to add this haunting song to this album.
We have rearranged the order of the songs, remastered the recordings with up-to-date recording technology, and included BIRDS in Buzzart's release of these recordings.
Our objective is to focus on the recordings made at ELECTRIC LADY. One song that was on the MUSIC album, "SEARCHIN,'" was not recorded at ELECTRIC LADY, and we did not include it on this album.
As usual, Buzzy had a great band for these recordings. Moogy Klingman played piano and organ. Doug Rodrigues played lead guitar and percussion. Douglas Rauch played bass, percussion and lead guitar on MOTHER'S RED LIGHT. John Siomos played drums. David Bromberg played Dobro guitar on KILPATRICK'S DEFEAT.
These recordings are among the earliest produced at Jimi Hendrix's Electric Lady studio.