Nobodaddy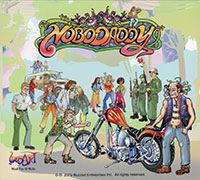 Track 1 of this album is an audio version of our musical called "NOBODADDY The Musical." This is a form of story theater (or story-rock), with the storyteller narrating his perception of a demonstration in Berkeley in 1969. The narration is enhanced and augmented by various songs and instrumental music written and performed in this recording by Buzzy Linhart, one of America's great singer-songwriters. When the musical is produced for the stage and for video presentation, we plan on having a full cast of actor-singer-dancers who will serve as a chorus, as well as players of the various characters in the show. Each song will be done by a different performer who will act, sing, and dance the part. Dancing will be a big part of this show.
Tracks 2-8 are full length versions of the songs and instrumentals that are used in the musical, all of which were written or co-written by Buzzy. The songs are all performed in this recording by Buzzy, except the short fragment of "THE GIRL WITH SEA GREEN EYES," which was performed by Arthur Berggren (the narrator in the musical). Because the songs and instrumental music in the musical often serves as underscore to the narration and are edited to fit within the requirements of this audio presentation, we have added to this album full length unedited versions of them.
We are working on producing a graphic novel of this material as well, which we will publish online at a later date. It will continue the narrative of the show, and will focus on exploits of the characters in the show, especially the characters Nobodaddy and Brother. It will involve the use of new songs and music as the action of these memorable characters unfolds.
We will be adding to this section in future. Right now we want to get the show on the road and on the web.
So please keep tuned.
See our sister site nobodaddy.net