Buzzy Linhart In His Generation, Part 1 | The 1960's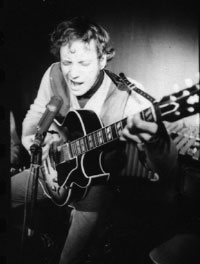 The major part of Buzzy Linhart's body of work was created during the 1970s. The foundation, however, took place during the preceding decade. The folk-rock phenomenon was going strong in the early 1960s, and Buzzy and Fred Neil and others were experimenting with long, improvisational jam sessions. As Buzzy puts it they were searching for that point where "telepathy ends and making music begins." Ravi Shankar was having a big influence on American musicians. Buzzy was naturally drawn to the raga form and was inspired by Shankar's improvisational virtuosity with it. Buzzy was living in Greenwich Village with roommate John Sebastian. Fred Neil was playing and serving as a kind of master of ceremonies at the Café Wha?, and was attracting Bob Dylan and other wandering minstrels of that time, including Buzzy.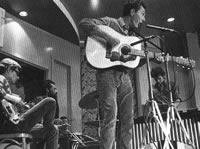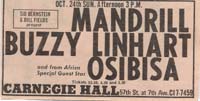 Buzzy formed the band The Seventh Sons, and continued to explore various forms of improvisational music including raga. In 1964, Robert Shelton wrote in the New York Times that Buzzy Linhart was one of the first American musicians to successfully blend rock and Indian raga. Buzzy's first significant commercial release was the eponymous "buzzy" album, recorded for Phillips at Chappel Recording Studios, London, England during October of 1968. This album contains a good example of Buzzy's contribution to raga rock in the track entitled Sing Joy, co-written by Buzzy and Dona Calles. Buzzy included two Indian instruments in the mix (tabla Keshav Sathe and sitar Big Jim Sullivan), plus a Mellotron (Phil Ryan) for good measure. The Archive contains an unreleased recording of Sing Joy .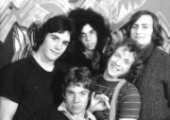 During the 1960s Buzzy was listening to and being influenced by some of the finest songwriters of that decade, and produced some excellent cover recordings of songs by Fred Neil: The Bag I'm In , Bob Dylan: Oxford Town , Tim Hardin: Yellow Cab , and John Sebastian: Good Time Music . We have included a video clip of Buzzy performing The Bag I'm In at the Videofreex Loft in 1968.