Buzzy Linhart In His Generation, Part Ⅱ | The 1970′s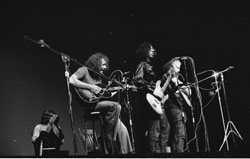 Buzzy Linhart came into his own as a songwriter and recording artist in the decade of the 1970s. In 1970, Buzzy and Eddie Kramer produced Buzzy's next album, MUSIC, at Electric Lady, Sound Exchange and Vanguard Studios in New York. It was released on the Eleuthera Records label and distributed by Buddha Records.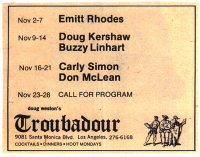 By this time Buzzy has written in many genres and has developed his own style of songwriting. The Archive includes many unreleased recordings of these songs, including Talk About A Morning haunting kind of folk-rock song; If You Love Me pop-rock and Everybody's Got To Get Along .
In 1971, Buzzy, along with his bass player Bill Takas, and his drummer Luther Rix, produced and arranged Buzzy's next album, The Time to Live Is Now. The album was recorded at Media Sound Studio B, in New York City, and was released by Kama Sutra Records. An Unreleased version of the title track, The Time To Live Is Now has recently been discovered.

Jesse Colin Young credits Buzzy with introducing him to Lets Get Together written by Dino Valente, a song that will forever be associated with the Youngbloods. In an interview from the film Famous, The Buzzy Linhart Story, Young tells of how his discovery of that great song occurred in 1971 after he heard Buzzy sing it one afternoon at Café Au Go Go. He was so moved that he went backstage and asked Buzzy to teach it to him. Buzzy did so on the spot, and the rest is history.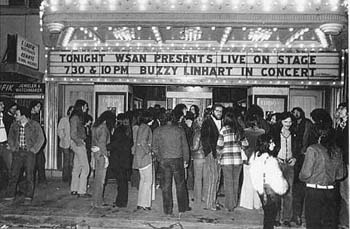 Buzzy's capacity to write in a variety of genres continues to bear fruit. Among the unreleased recordings of these outstanding songs in the Archive are the pop hit Friends , which he co-wrote with Moogy Klingman, and which became Bette Midler's signature song. He ventures into the spiritual realm with Heaven his pop-gospel homage to his musical ancestors. Buzzy continues to explore the raga-rock that he began in the 1960s with The Loves Still Growing , which Carly Simon recorded in 1971 for her self titled album released on the Electra label.
Buzzy produced his next album in 1972 on the Kama Sutra label, entitled BUZZY (not to be confused with his 1968 album of the same name but in lower case, "buzzy"). It was recorded at Bell Sound Studios, NYC, and the Record Plant, NYC, and was mixed at Bearsville Studios, Bearsville, New York, by Todd Rundgren.
Buzzy wrote a lot of rock 'n roll during these years. The Archive contains unreleased recordings of a number of up-tempo hard-hitting rock and roll songs including Tornado and I 1 2 C U Shuffle and a mellow, folk-rock song entitled Rollin' On .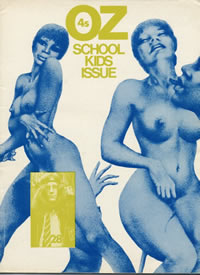 The culture war that coalesced in the 1960s continued into the 1970s and was not confined to the U.S. In 1972, the London obscenity board took criminal action against writers and publishers of the London underground magazine, OZ. The case became a cause celebre in the free speech arena, and the likes of John Lennon and Yoko Ono joined in many public protests in favor of the defendants. In the U.S., a musical was created based upon the transcript of this trial entitled The Trials of Oz, for which Buzzy wrote the songs. The musical had a brief run on Broadway, but the "dirty" lyrics of the songs were too much for the critics. In an interview in 1973 on the Alex Bennet radio interview , Buzzy talks about the musical and the circumstances leading to its demise. The show included some of Buzzy's funniest songs such as The Justice Game, We have two versions of a ballad from the show entitled Masquerade Ball , one performed by Buzzy and the other produced by Buzzy with Leata Galloway , one of the cast members, performing the song in a moving, pop-gospel style.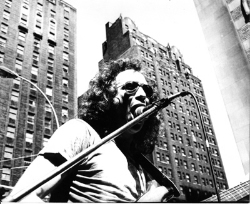 Buzzy's next album, Pussycats Can Go Far, was released on the ATCO/Atlantic label in 1974 and produced by Barry Beckett & Roger Hawkins at Muscle Shoals Sound Studios. The Archive contains an unreleased recording of the title track, PussyCats Can Go Far , a gentle, pop-fantasy song. The album also contains a rhythm and blues song entitled Shoo That Fly , which has a Motown kind of sound and feel evoked to great effect by Aretha Franklin's back-up singers.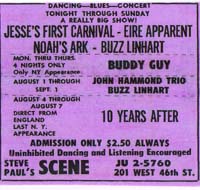 In 1976, Buzzy ventured into the soundtrack world when his music and his recordings were used in the soundtrack of the motion picture "Rush It", produced by Gary Youngman and starring Judy Kahan and Tom Berenger. Some of Buzzy's finest work was used in this movie, including a universal pop-rock song entitled Free Soul Spirit Symphony (which he co-wrote with Marty Kupersmith, Peter Anders, and Danny Mehan), love ballads entitled Calico and Someone Someday and an up-beat blues entitled The Happy Blues .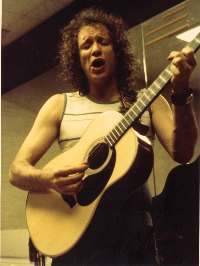 Buzzy wrote many songs during the 1970s that did not find their way onto commercially released albums, including some very funny songs such as the hilarious sneeze song Hay Fever the tongue-in-cheek, country-western cartoon Twelve Black Cabs and the over-the-top, punk-rock parody Death Can Be Fun , Buzzy's period of fame and fortune during the 1970s flamed out after this, and he became a kind of Buddha-like music master thereafter, bouncing from place to place, always seeking truth through music, always uncompromising in that journey, always searching for new ways to express his obsession for great music. He had much more to write, including some extraordinary explorations in contemporary styles, and in future we will bring this musical adventure to present.